LXF 153 On Sale Today!
Posted at 10:58am on Thursday December 8th 2011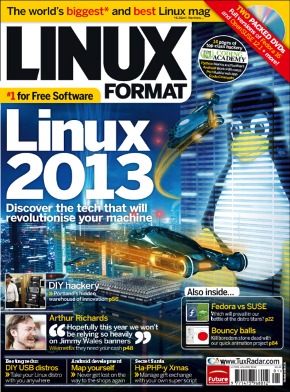 We just wanted to let you know that the latest issue of Linux Format goes on sale today.
On our disc double-pack you`ll find full versions of Fedora 16 and OpenSUSE 12.1. That`s 6330 packages alongside all our other great content.
Take advantage of our Christmas subscription campaign, saving up to 50%, by following this link: http://www.myfavouritemagazines.co.uk/content/lp/linuxformat
Plus:
Discover the tech that will revolutionise your machine as we delve into what the next 12 months will have in store for Linux, from desktops and distros to APIs
DIY Hackery - We visit Free Geek, Portland`s hidden warehouse of innovation
Tutorials on PHP, creating a USB distro and stop-frame animation
Our Coding Academy includes projects on Python, Android and Perl
You should follow us on Identi.ca or Twitter