Linux Format issue 144 is on sale now!
Posted at 1:03pm on Tuesday April 5th 2011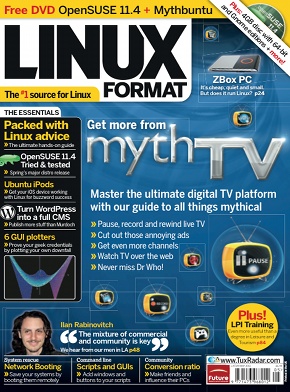 MythTV usually conjures up two thoughts amongst Linux users: it's a brilliant digital TV platform, but it's also notoriously difficult to set up correctly. Fortunately, then, this month's cover feature teams up with the mighty Mythbuntu (on the DVD) and helps you configure a powerful, attractive and feature-laden personal video recorder. You can watch TV over the web, cut out annoying adverts and never miss your favourite shows again.
Meanwhile, the Ubuntu Community Manager explains the tricks of project management, while we look at how to convert weary Windows users to the happy world of free software. In our reviews section we look at OpenSUSE 11.4, SpaceChem and OpenShot, while our tutorials bit covers KDE, LPI certification, Bash scripting, accessing iOS devices on Linux and more.
Then there's the software-packed 4GB DVD, featuring a trifecta of OpenSUSE 11.4 versions: KDE, Gnome and 64-bit. Then there's the aforementioned Mythbuntu 10.10, a demo of the top-scoring SpaceChem puzzler, Puppy Linux 5.2, development tools, games, podcasts and heaps more to explore.
View the full contents list here. LXF144 is on sale at all good UK newsagents (overseas in the next few weeks), or you can buy a copy online. Even better, get every issue straight to your door at a great price by subscribing!
You should follow us on Identi.ca or Twitter