Linux Format 155 On Sale Today - Discover Linux!
Posted at 10:26am on Thursday February 2nd 2012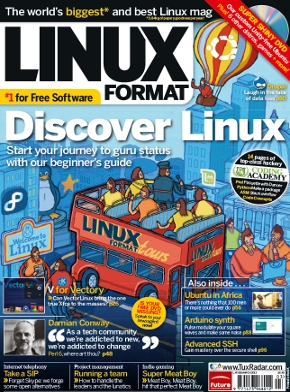 Get on board the Linux bus. Destination: expertsville!
If you`re looking for a way into the weird and wonderful world of Linux (by weird we mean being able to install what you want without being branded a pirate. We also mean no longer having to worry about viruses corrupting your expensive machine), LOOK NO LONGER! This issue holds your hand and guides you through those first tentative steps to software freedom.
And there`s plenty more for the established Linux user: we cover advanced SSH, Arduino hacking and data-loss prevention in Drupal in the tutorials, plus there`s the Coding Academy, reviews (trust us, the Xfce desktop is going to get a lot more popular when people realise how good VectorLinux is), and we discover how Linux is making a difference to people`s lives in rural Zambia.
On the disc: Ubuntu remixed and 6 other distros. Neil Bothwick shows his mastery over optical media with our own Gnome 3 remix of Ubuntu and six other fully booting distros, as well as all the other great software we feature in the magazine.
Take a look at our archives for an issue overview: http://www.linuxformat.com/archives?issue=155
You should follow us on Identi.ca or Twitter